2022 Adrian Campbell Ride
WHEN: Sunday, October 2, 2022 (please note new date)
WHERE: 137 Newcomb Branch Road, behind Kentville
COST: free will offering (income tax receipts for donations over $20)
Start Time: 10 AM Check in opens 8:30
Please pre-register: Click here
Questions? Email: info@adriancampbell.org or call 902-798-7108.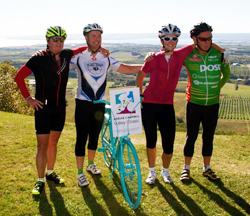 Join us for The Adrian Campbell Ride - a casual fun ride leaving from 'the farm' on the Newcomb Branch Road near Canning. This year, 7 new Scholarship Recipients 2022: Jesse Niet (Windsor) & Sophia Green (Bible Hill); 2021: Maxime Doucette (Berwick), Evan Sheffield, in memory of Wyatt Davies (Sunken Lake), & Ian Gaudet (Dartmouth); 2020 Mikayla Boucher (Dartmouth) & Eileen Benoit (Newport) along with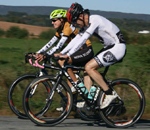 their 10 predecessors are invited to lead out the ride with Adrian's sons. Enjoy a beverage and post ride BBQ at the farm, mechanical support vehicle and pre-ride refreshments and Gatorade fill-up. The ride is free of charge – but we would love to accept your donation of any denomination to help cover expenses of the ride and help with the scholarship fund.
The Rides
This year features three main road routes:
an eastern loop of 32 km,
a western loop of 72 km (combined "figure 8" century (104km along the Valley floor) and
a scenic 74 km gravel grinder route.
The 32 km Eastern Loop follows along parts of previous years' routes along dykeland and orchards and has several options to shorten the distance (turning on Church St. will make this a 26 km route; turning on Canard St., a 20 km route; and turning on Saxon St., a family friendly 15 km).
Similarly, the 77 km Western Loop could be shortened to 61 km (by turning left at Long Pt road) or 54 km (by turning left onto Rt 360 toward Berwick). The main routes will be signed but alternate routes will not be. If you wish a shorter route option, please check your map in advance.
The Gravel Grinder ride will involve climbing over the North Mountain and dropping down to ride along the Fundy coast before working our way back via as many dirt roads as we can find. This ride is most appropriate for Cross or Grinder bikes with at least 30c tires. With the exception of the Gravel Grinder, we will not have formal ride leaders or sweepers. Rather, we encourage you to pick a route, travel for the distance you like at your own pace. Make up your own group before your ride, or join in on ride day. Former ride leaders will wear armbands in case you have any questions. We will also provide you with route maps on-line (print available on ride day) and telephone contact on day of ride in case you need any support. Like every ride, please be prepared with proper clothing, safety gear, water, and the ability to be self-sufficient on your bike for minor repairs like a flat. Mechanical support is provided, but we are covering a vast area and may not be where you are if you need a repair. We ask that you bring your own kit for lunch and snacks.
There are lots of fabulous places to stop for a fuel break or lunch can be purchases along the route if you prefer. (Please check your options in advance). A post ride BBQ is provided with burgers and beverage. (Gluten free and Veggie burgers available). We hope you will invite your friends and join us for another fun day celebrating Adrian and the routes he loved. The leaves should be at their best for another beautiful fall ride. Put it on your calendar. HOPE TO SEE YOU THERE!!
The Adrian Campbell Scholarship Fund Association is a Registered Charity that provides two $1500 Scholarships annually (one to a student from the Annapolis Valley and the other open to students province wide). The Scholarships award outstanding sportsmanship and community involvement for scholar athletes.

© copyright 2022 Adrian Campbell Scholarship Fund